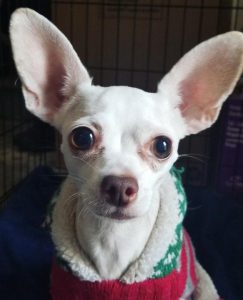 Kiki 
Profile:
Age: 2-years-old
House Trained: You need to initiate but knows the word potty and will perform.
Crate Trained: Trained.
Comfort Level With Cats: Good with cats.
Comfort Level With Other Dogs: Uninterested and prefers to be left alone.
Comfort Level With With Kids: We do not know how Kiki would be in a home with children.
Meet Kiki!
Kiki is our smallest rescue dog and while she may be teeny tiny, her heart is quite big. Kiki loves people! Our little escape artist was found as a stray, she was bolting down a busy street and spotted during one of our meetings. We ran after her until finally, she was safe in our arms. Kiki's owners were never found and we speculate she may have been dumped at the dead end of the road. Kiki is very cuddly and food motivated. She can be vocal around other dogs or if she is alerted. She loves being a sidekick and following you around the house. Once you sit, she will lay in your lap, or snuggle on the back of the couch, as long as she can see you. Kiki is unbothered by other animals and is happiest sporting a new sweater while being held in your arms. She rides well in the car but doesn't love the leash, we are working on that. Overall she is a very easy dog and cuter than a bug's ear.
If you would like to adopt Kiki click here to fill out an adoption application. Kiki would love to meet you!