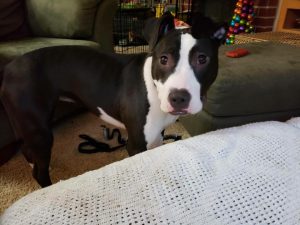 Olive 
Profile:
Age: 1-year-old – birthday is 2/07/2018!
House Trained: You need to initiate but knows the word potty and will perform.
Crate Trained: Entertains herself well.
Comfort Level With Cats: A cat-free home would be best.
Comfort Level With Other Dogs: Working on socialization, so far so good!
Comfort Level With With Kids: Older children would be best as Olive has a lot of energy.
Meet Olive!
Olive is a young pibble mix (pit bull mix) we are fortunate to have had since she was born.  Olive was the most active puppy of her litter. Her puppy like spirit has never left and with that Olive tends to be cautious. She needs time to warm up to new things.  Her favorite thing is water, in fact when she drinks she submerges her entire snout. She loves squeaky toys, bones, Kong's and balls. She is very food motivated and does well on a leash.  Olive is a 57-pound snug bug when not in motion. Car rides are her least favorite thing due to car sickness but that is a work in progress.
Olive would excel with a person or family who has the patience to help her get over her fears and show her how to live her best life.
If you would like to adopt Olive click here to fill out our adoption application. Olive would love to meet you!