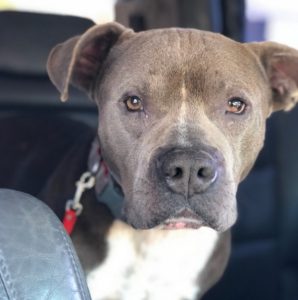 Angus
Profile:
House Trained: Trained.
Crate Trained: Trained.
Comfort Level With Cats: No cats please.
Comfort Level With Other Dogs: Good with dogs – he especially loves the ladies!
Comfort Level With With Kids: Good with kids.
Meet Angus!
Angus (formerly 'Troubles') originally found himself at Stanislaus County Animal Shelter in January, 2019. He was healthy and in good shape, and luckily he was also microchipped, so he was reunited with his owners. Six months later, Angus once again found himself at the shelter, only this time his owners didn't come to claim him, and he was in bad shape: his right leg was non-functioning, his spine was out of whack, and he had scars all over his body. Though we'll never know exactly what happened to Angus in the six months between leaving the shelter and coming back, it definitely wasn't good.
In spite of everything, Angus is a sweetheart! His body may have been broken, but his spirit isn't; he still trusts people, and isn't reactive to other dogs in non-stressful settings. He has worked through some separation anxiety, which wasn't surprising given what little we know of his history, and recently had FHO surgery to repair the hip issue that was causing his limp. In general, he just wants to be touched, hugged, scratched, and loved. His resilience is astounding!
To keep up with Angus, check out #SacRDRAngus on Facebook and Instagram!
If you would like to adopt Angus, click here to fill out an adoption application. He would love to meet you!