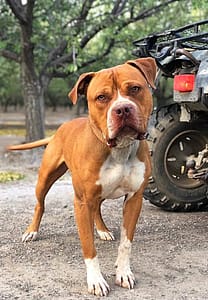 Bruce (PENDING ADOPTION)
Profile:
House Trained: Trained.
Crate Trained: Trained.
Comfort Level With Cats: No cats please.
Comfort Level With Other Dogs: Good with dogs with proper introductions; prefers females.
Comfort Level With With Kids: Good with older kids.
Meet Bruce!
Bruce was found locked in a church parking lot by a SacRDR director on 4th of July – someone had dumped him. 🙁 He was trapped inside the fenced area without food or water, and fireworks were due to start at anytime, which is terrifying for a lot of dogs under normal circumstances, and Bruce had just been abandoned and didn't know where was was. Though there wasn't any open foster space in the rescue, our director had no choice but to pick him up – she couldn't in good conscience leave him on the streets.
Bruce went into a temporary foster placement, where it became clear that he had zero manners or training! He's a sweet boy, but a big dog, and he definitely didn't know his own strength or size. Bruce was moved to a board and train program, where he began to shine! He learned manners, obedience, and how to focus on his handler even with distractions and other animals around. Bruce will do best with a dog-savvy owner who is comfortable handling large dogs, and who will continue his training – the trainer he is currently with will provide information, and will partner with SacRDR to help make Bruce's transition smooth.
Bruce has shown that he can co-exist with other large dogs, though proper introductions are key. He's a big puppy at heart, but is eager to please!
To keep up with Bruce, check out #SacRDRBruce on Facebook and Instagram!
If you would like to adopt Bruce, click here to fill out an adoption application. He would love to meet you!