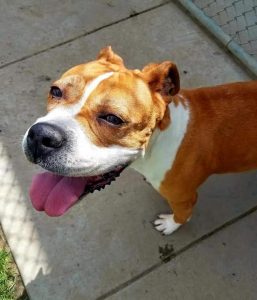 Bella
Profile:
House Trained: Trained.
Crate Trained: Trained.
Comfort Level With Cats: No cats please.
Comfort Level With Other Dogs: Good with other large dogs.
Comfort Level With With Kids: Good with kids.
Meet Bella!
Poor Bella was listed as 8-years-old and pregnant in a local area shelter, where volunteers had taken to affectionately calling her "Granny". She was literally down to her last day on Earth and scheduled to be euthanized at 5:00pm, and lucky for us all she made it out by 4:30pm!
Upon getting Bella in to a vet post-shelter decompression, it was discovered that Bella isn't a mama or granny after all – she's actually quite young, and an ultrasound determined that she is not pregnant! Bella has clearly had at least one previous litter, and likely lived a pretty rough life on the streets given the state of her teeth, but that's all in the past now! No more puppies for this young thang – she's ready to find a forever family who will treat her the way she deserves for years to come!
Bella's play style is a little weird, so other dogs don't always 'get' her, but she does well with other large, patient dogs who are cool with a little crazy energy!
To keep up with Bella, check out #SacRDRBella on Facebook and Instagram!
If you would like to adopt Bella, click here to fill out an adoption application. She would love to meet you!