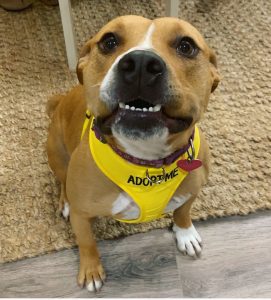 Grace 
Profile:
House Trained: Trained.
Crate Trained: Trained.
Comfort Level With Cats: No cats please.
Comfort Level With Other Dogs: Grace is the head brat in charge, does best with submissive males but would thrive in a home where she is the only dog.
Comfort Level With With Kids: Good with kids.
Meet Grace!
Working on leash manners every day!
Grace is a compact, sweet, smart pit bull mix. She is only about 18 inches off the floor, on all four paws, weighing in at 45 pounds. She is a bodybuilder extraordinaire with a bark to match. She is reserved and hesitant with strangers, likely due to mistreatment and abuse. When Grace was found, she was hiding out under a bush in an apartment complex. She was skin and bones and starving, all the while feeding an entire litter of puppies. However, that life is far behind her now, she is one of the happiest, kissiest dogs you'll ever meet! Gracie Lou is looking for a home with consistency. She needs people she can rely on, who will work with her and love her endlessly. She has been let down too many times and will require a very stable environment. She is safe at her foster home until the right person or family comes along to carry her off into the sunset.
If you would like to adopt Grace click here to fill out an adoption application. Grace would love to meet you!