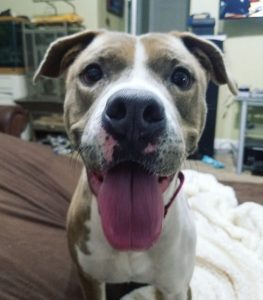 Toby 
Profile:
House Trained: Trained.
Crate Trained: Trained.
Comfort Level With Cats: No cats please.
Comfort Level With Other Dogs: Good with dogs.
Comfort Level With With Kids: Good with kids.
Meet Toby!
Handsome Toby lived with the same family for the first two years of his life; unfortunately, his previous owner did not neuter him, and when he impregnated the family's female dog he was kicked out. While Toby was safe for a bit in a home with a temporary foster and a bossy chihuahua, the space was too small for a second dog, and he found himself in the shelter. Shelter life was hard for Toby; he was terrified, completely shut down, and did not test well as a result. Almost immediately, he was deemed unadoptable and listed as rescue-only. Sadly, the shelter was running out of space, and with time running out, Toby became a SacRDR dog!
Toby settled right into the hearts and laps of his new foster family. He is a giant lovebug, and is learning what it means to feel safe and protected again.
To keep up with Toby, check out #SacRDRToby on Facebook and Instagram!
If you would like to adopt Toby, click here to fill out an adoption application. He would love to meet you!